Print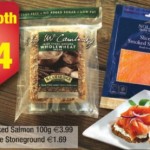 Smoked Salmon And Brown Bread
A simple yet delicious snack
Slice the lemon.

Remove the smoked salmon slices from the packet and put on a plate.

Squeeze lemon juice over them

Place the salmon on the bread

Enjoy!
Butter obviously improves the overall taste if you have it, though I find that salmon on a good bread doesn't really need it. Ultimately that's a matter of personal preference.