I love smoked salmon. It's one of my favourite foods, though it's not one that I get to eat that often.
Salmon is also pretty good in terms of calories, so not only does it taste good it's not going to kill you 🙂 (Bonus!)
At the moment Dunnes Stores is doing a very attractive offer on a "bundle". If you buy a packet of smoked salmon they'll "throw in" a packet of brown bread.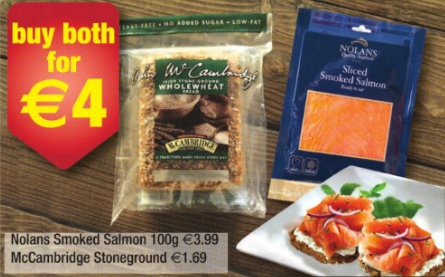 So instead of paying 4 euro for salmon and another 2 euro (give or take) for a good quality brown bread, you can get both for 4 euro.
It's an attractive offer and all you need then is some lemon and you're all set.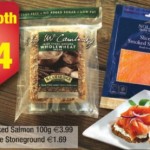 Smoked Salmon And Brown Bread
A simple yet delicious snack
Ingredients
1

Lemon

50

g

Smoked salmon

2

slices

McCambridge Stoneground wholewheat bread
Instructions
Slice the lemon.

Remove the smoked salmon slices from the packet and put on a plate.

Squeeze lemon juice over them

Place the salmon on the bread

Enjoy!
Recipe Notes
Butter obviously improves the overall taste if you have it, though I find that salmon on a good bread doesn't really need it. Ultimately that's a matter of personal preference.
Smoked salmon with brown bread really doesn't need much more than the lemon to bring out the fish's flavour. Of course you could add cream cheese and maybe garnish it with a bit of dill or similar, but personally I don't think it really needs it. The salmon by itself is very tasty.
Most Irish supermarkets will stock Irish smoked salmon, though you'll often find that the cheaper options are imported. You can do pretty much the same thing with smoked trout.
Enjoy!