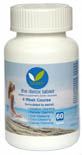 Over the last few years I've read quite a bit about how our bodies build up junk. Whether you have a good diet or not you still seem to end up with undigested leftovers and other undesirable stuff floating around your stomach and intestine.
Some friends of mine, who were into archaeology, used to purify themselves using quite an extreme method which involved drinking water and very little else for several days!
Fortunately there are other options open to us these days.
One of them, that I was interested in trying, is a series of detox tablets. Supposedly this helps reduce the amount of toxins in your bowel areas etc., which should help with weight loss and digestion. I know that it would probably do me good, as I've been treating my body like a playground for as long as I can remember!
Find out more about the detox tablets (and other solutions) here (the free shipping to Ireland really caught my eye!)