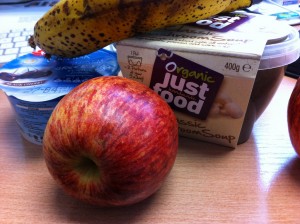 Since I started this diet regime back in January I have changed my eating and shopping habits quite dramatically.
Previously my lunch on work days (Monday to Friday) was a roll or possibly a salad plate from the corner shop. They do absolutely fantastic salads, but the really tasty parts are really heavy ie. coleslaw and potato salad.
Under my new regime I have the same lunch pretty much every day. That does sound a bit boring, but I'll sacrifice a little boredom in order to maintain consistency.
My lunch these days consists of:
Fruit. Usually a couple of apples and one or two bananas. Sometimes this might be tangerines .. it depends what I have
Yoghurt. I usually opt for some kind of low fat one. Recently I've been getting the Glenisk range of "Greek Style" yoghurts. They come in a good variety of flavours.
Soup. When I can I get one of the really tasty soups from "Just Food" I try to use them. However that's not always possible, so any can of soup that can be cooked in the microwave works
Wholemeal bread – usually two slices. No butter or other additions. It goes well with the soup.
Apart from the obvious nutritional benefits (which will vary depending on which soup I choose) the whole thing is pretty light in terms of calories. According to my calculations it's about 500 calories in total.
What kind of things do you have for lunch?