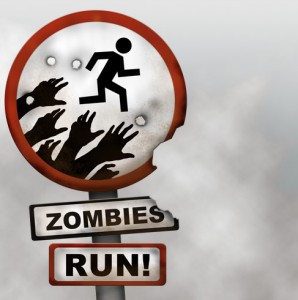 Over the past few weeks my weight loss has more or less flatlined. My weight goes up and down, but I'm not seeing that nice constant drop in weight that I was seeing originally.
In terms of my calorie intake it's been pretty steady, apart from a couple of days when I've been naughty and succumbed to tasty treats etc.,
So what I probably need to do (doh!) is get some physical exercise.
Walking would be the obvious choice, but I hate walking in circles unless I have somewhere to go. If I was going somewhere for a purpose I wouldn't have any issues, but walking a route just doesn't do it for me.
Zombies might be the solution!
Ok, that sounds a bit odd, but I'm talking about an iPhone game and not the zombie apocalypse.
Zombies, Run! is an ultra-immersive running game for the iPhone, iPod Touch, and Android. We deliver the story straight to your headphones through orders and voice recordings
Here's their intro video which explains what it's all about:
[youtube]http://youtu.be/GyFqZtKvya0[/youtube]
I haven't tried it out yet, but I will! The idea of being chased by zombies is sort of appealing, but more importantly to me it would give me some kind of purpose when exercising / walking.
Related articles