Over the past couple of weeks I haven't been sticking as closely to the Tesco Diets meal plans as before. That does not mean that I've reverted to eating badly, though it does mean that I've probably been a bit badly behaved at times.
However, on the plus side, I've rediscovered my love for salad.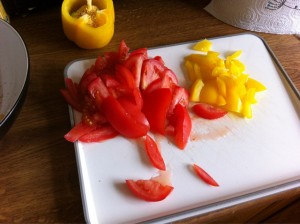 I've never been that good at following salad recipes verbatim. I tend to "tweak" them according to what I have available and my personal preferences. For example, I like garlic, so I'll usually include more garlic than most people would.
Creating your own salad is nice. It doesn't take long and if you have a reasonable selection of fresh vegetables it can taste really good.
Typical ingredients include fresh peppers, onion (red is preferable, but white works fine), garlic,mushrooms, hard boiled egg, grated carrot, olives, mixed salad leaves and a can of tuna (preferably in olive oil).
I rarely use prepared salad dressings. I'm happier to simply throw a bit of virgin olive oil and balsamic vinegar over the salad.
To add a bit of colour and taste a few sprigs of freshly cut herbs from the plants I keep in the kitchen add a nice finishing touch – parsley seems to grow well for me, though I've had mixed experiences with other herbs – they have an annoying habit of dying on me!
Here's one I made last week: