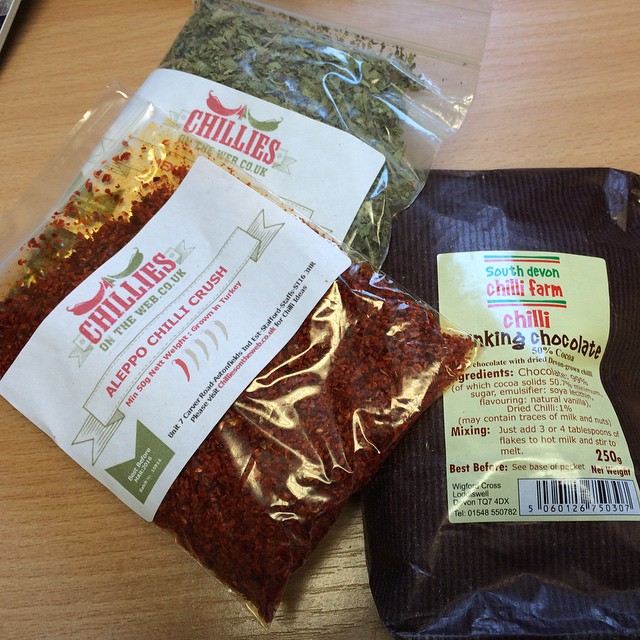 I like cooking with chilli. Generally I try to grab a pack of fresh chillis once a week and use them (in moderation) to add a bit of heat and flavour to soups and pasta dishes.
While browsing the other evening I came across an article talking about a specific type of chilli. Aleppo chilli. So I went off in search of places where I could actually buy it and came across this site.
The domain name says it all – chilliesontheweb.co.uk – they specialise in chillies and related products. And their pricing, service and shipping fees are all very good.
So I not only picked up some aleppo chilli crush (pictured above), but I also got chilli drinking chocolate. I like chilli. I like chocolate and when I was in Guatemala earlier this year I got to try hot chocolate with chilli. And I was hooked.
The chilli drinking chocolate on sale comes in a variety of flavours and strengths. So, since I didn't want to kill myself, I opted for the simplest option 🙂
Unlike the cheaper drinking chocolates sold by the likes of Cadbury, the South Devon chilli farm drinking chocolate is more flakes than powder. I'm still experimenting with quantities, but about 5 or 6 teaspoons of them added to a microwaved mug of milk seems to work.
Since I'm conscious of my "behaviour" I use fat free milk, which is probably not as tasty as "normal" milk, but it's still very tasty.
Calorie count? I've no idea, but if you can't enjoy good quality and tasty hot chocolate from time to time then there's not much point!