Raw beetroot is full of goodness. It contains potassium, magnesium and iron as well as vitamins A, B6 and C, and folic acid. Pretty impressive, isn't it?
Unfortunately, as I've already mentioned, it's not that tasty as a juice unless you combine it with other fruit or vegetables.
Depending on what you have in the cupboard you might end up being a bit limited in your options. In my case I've run out of several items that I'd normally have, so tomorrow's juice will be a mix of beetroot, carrot and orange.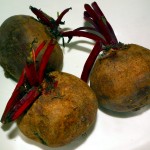 Beetroot, Carrot and Orange Juice
A breakfast juice freshly juiced to start the day
Ingredients
1

uncooked beetroot

2

oranges

4

carrots

1

slice

of fresh ginger

1/2

lemon
Instructions
Top and tail the beetroot and carrot.

Slice up the ginger.

Optionally peel the orange, as the skin can give it a slightly bitter taste

Chop up and juice