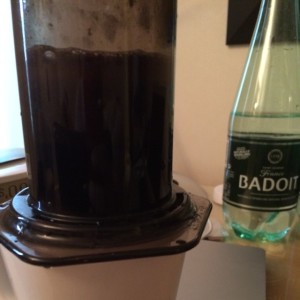 If you're a lover of coffee you probably start your day with a coffee. However not all coffees are equal and when you're travelling you're pretty much at the mercy of your hotel's facilities and those of its surroundings. While some hotels, notably the Radisson chain, provide proper coffee machines in their rooms, many, such as the Hilton, only give you horrible instant coffee. (Admittedly some of the Hilton properties in the US do provide Kreug machines, but it's not a given that you'll get one).
A few weeks ago I decided to rectify the problem once and for all and purchased an Aeropress coffee machine.
It's not too big to fit in my suitcase and the coffee it produces is significantly better than the rubbish I'd have been stuck with in some of the hotels (Hilton London Metropole I'm looking at you!)
So when you fall out of bed in the morning instead of making a barely drinkable instant coffee you can start your day with a rich fresh coffee!