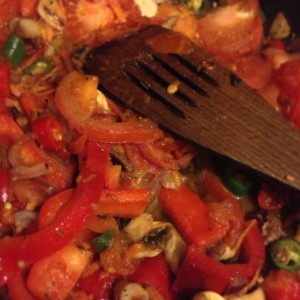 Over the past couple of weeks I've been cooking quite random dishes of my own concoction. Partially because I like experimenting and partially because I keep ending up without the right combination of ingredients for "normal" recipes.
This evening, for example, I had some leftover tomatoes that were "on their last legs" ie. if I didn't use them they'd have gone off. So I combined them with garlic, onion, mushrooms, peppers and a leftover jar of anchovies.
To give it a bit more "kick" I also threw in a couple of diced chillies.
Served with some wholewheat pasta, courtesy of Gianni.. it was very very tasty.
All fresh vegetables, freshly cooked.. I'm not sure on the calorie count, but I suspect it's not stupidly high.