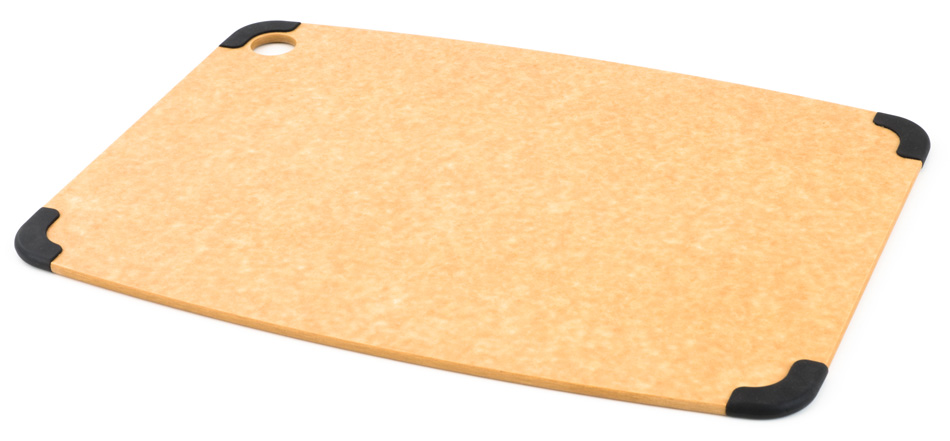 Over the past couple of years I've picked up a variety of cooking utensils on trips to the US. At some point on a trip I usually end up in a shopping mall somewhere and invariably it'll have a shop dedicated to cooking. On my most recent trip I ended up in "Sur La Table" just outside San Diego. And ended up walking out of the shop with a couple of chopping boards. Yes, I do have chopping boards, but one of the small wooden ones I have broke a couple of months ago so while I wasn't actively looking to buy a replacement, when I came across one it was impossible to resist.
The "wood fibre" chopping boards from Epicurean are an interesting concept. It looks like the plastic resin that you often find used in making chopping boards, but it's actually wood. It just looks and almost feels like plastic. The non-slip corners are also a nice little addition, as rigorous chopping + slipping can easily lead to at best food being spilt or you losing a finger! (Did I mention I have some rather big and very sharp knives?)
Anyway my curiosity was piqued. The manufacturers describe these boards as being made of "natural wood-fiber board uses materials certified by the Forest Stewardship Council. The nonporous surface does not hold bacteria, making it safe and sanitary."
So far I've been using the board for about a week and I like it so far. It's easy to clean and doesn't slip.
How well it stands up to use over time? It's obviously too early to say. What I've found with other chopping boards is that they either ended up badly scratched, discoloured or simply smelly. And of course wooden ones can end up warping if you're not careful with how you wash them.