I've mentioned more than once how travel really makes dieting awkward. Yesterday is best written off, as I spent the day on planes and eating whatever they gave me.
Today, however, I started the day off with a very tasty breakfast in the Royal Palms in Scottsdale: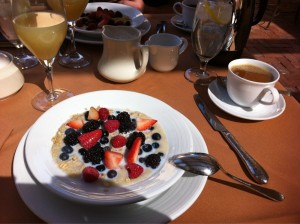 Grapefruit juice, coffee and Baked oatmeal with berries served with vanilla almond granola from Laura's Gourmet Granola (I've no idea who they are!)
The entire thing was absolutely delicious and not heavy calorie-wise.
I'll probably misbehave later in the day, but at least I started off well 🙂