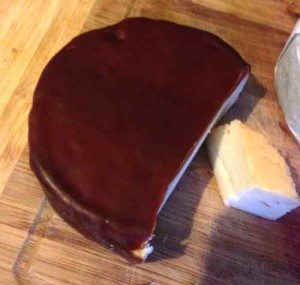 I grew up on cheddar. If you're Irish and over 30(ish) you probably know what I mean. It's not as if other cheeses were readily available in Irish shops back in the 1970s when I was growing up. So you had cheddar or you had some other bland cheeses that weren't exactly "exciting". More exotic cheeses probably were available in cities like Dublin or Cork, but I grew up in the west of Ireland where "exotic" wasn't part of the vernacular.
These days, thankfully, things have changed and even my local corner shop stocks fairly "exotic" cheeses. Some are Irish, others are imported.
One of my favourite recent discoveries is an Irish cheese company from Cork called Carrigaline Farmhouse Cheese. Their smoked cheese is out of this world and totally addictive. Of course eating large quantities of cheese isn't exactly compatible with a healthy weight loss regime, but if you like cheese then you might as well enjoy good quality Irish cheese!
The company makes three different flavours, the smoked one, which I'm addicted to, a garlic and herb one and a "semi-soft" cheese.
If you can get your hands on any of them you won't regret it!