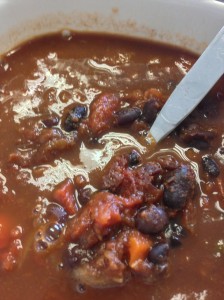 I am not a vegetarian. I was a vegetarian briefly back in 1991 when I was sharing a house with a few vegetarians and my girlfriend at the time was vegetarian.
I like meat. I love eating pretty much every type of meat imaginable, so the idea of me becoming vegetarian or vegan just wouldn't fly.
However that doesn't mean that I eat meat every single day and that I can't enjoy good food made with lots of fresh vegetables, pulses and other tasty non-meat ingredients..
This week, for example, I've been mostly eating salads and vegetarian pasta dishes in the evening, while during the day my lunch is primarily vegetable focussed. With the weather slightly warmer, by Irish standards, switching to eating fresh salads is great. They're quick and easy to prepare and you can vary them by swapping around extra ingredients and using your imagination.
Soups on the other hand are something I always buy in. As Paul suggested, making soups isn't that hard, but so far I haven't risen to the challenge!
Today's lunch was Cuban Black Bean soup from Just Food (looks like they've revamped their website, though it's still not exactly stellar!)
Calorie count: 172 calories for a 400g container of soup
Amount of meat included? Zero.
"Cooking" it is simple, just pop it in the microwave for a couple of minutes and you're done.
But more importantly, in my opinion, the soup is damn tasty!
While my weight loss progress hasn't been stellar over the last few months at least I'm not piling on the weight and I'm happy with what I'm eating, which is very important for me.
Eating more fresh fruit and vegetables can't hurt, though I haven't dumped meat from my diet and I have no intention of doing so.