There are an ever growing number of apps and devices that can help track your every move, your every bite and how many calories you consume, burn etc.,
Unfortunately a lot of them are a pain in the neck to use. They require a lot of extra work from you in order for them to record everything accurately.
A new app is trying to break that mould.
Argus claims that it will track most of your activities quickly and easily, in many cases without any intervention:
Argus turns your iPhone into a sophisticated health and fitness device as it monitors and manages your activities, food, workouts, sleep, hydration, weight and vitals, helping you make sense of numerous biofeedback data points to reach your health goals and improve overall well-being.

Argus is designed to harness every aspect of mobile computing to monitor your lifestyle without compromising your privacy. Argus is engineered for minimal power consumption and run 24/7 in the background, however continued use of GPS running in the background can dramatically decrease battery life.

Main Features:
– Daily step counter and outdoor activity tracking
– Creates food diary of all your meals with Food Snapping
– Set daily Goals for steps, sleep time and hydration
– Observe trends over time with all variables to track wellness
– Create close friends list to share food photos and other data
– Uses Instant Fitness for your home Workouts
– Uses Sleep Time to monitor your sleep cycles
– Uses Instant Heart Rate to monitor your heart beats
– Built in support of third party wearable devices and health apps

With an intuitive, eye-catching interface, Argus allows you to get a snapshot of your daily activity. Time is organized in honey-comb structure that allow easy aggregation of your data and detailed views. You can tap once on a cell to get more information. You can tap and hold for 2 seconds to get the aggregated views of your inputs.
Have a look at their promotional video where they make it sound like the answer to all my prayers:
[youtube]http://youtu.be/YB4UddXj2sc[/youtube]
The app was released earlier this week and at the moment, while it is promising, doesn't appear to offer support for that many other health apps apart from the withings scale and a couple of other devices I'm not familiar with.
Having said that the UI is really nice and I'll be testing some of its other features over the coming days (time permitting)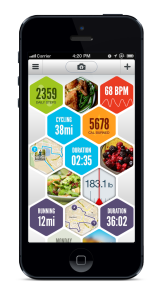 Related articles