I've always liked adding a bit of sauce to meat and poultry. A bit of sauce can make a relatively bland dish much tastier and interesting. However up until recently I wouldn't have bothered making a lot of the sauces from scratch when I can buy them readymade in the shop. But I discovered that not only are these sauces quite easy to make, but they're also a hell of a lot nicer than anything you can get in a shop. Ok, that last bit was pretty obvious!
So far this week I've made both a mushroom sauce and a peppercorn sauce. I used both of them with steak served with a bit of vegetable on the side.
The peppercorn sauce I made last night, however, is something I'm particularly happy with. I've always loved pepper sauce and I've tried just about every instant and packaged pepper sauce that you can get in both the Irish market and further afield.
It turns out that making a peppercorn sauce is actually quite easy and doesn't use weird or exotic ingredients. I made it last night for the first time, but I'm confident I'll be making it more often in the future, as it turned out to be so easy and so incredibly tasty!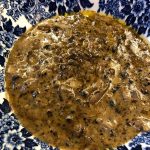 Peppercorn Sauce
A peppercorn based sauce that goes well with steak or chicken. The peppercorns will give it quite a bit of bite
Ingredients
2 -3

tbsp

Peppercorns

Black peppercorns are readily available in most supermarkets. Mixed ones would add a more interesting flavour if they were available

1

Shallot

100

ml

Brandy

if you don't have brandy a similarly strong alcohol would work. I used Calvados

50

ml

cream

salt & pepper to taste

50

g

Butter

50

ml

stock

beef stock or vegetable stock. I used 50 ml taken from a mug of stock I made using a single stock cube
Instructions
Crush the peppercorns using a mortar and pestle. Alternatively you could use a rolling pin or an empty wine bottle or jar.

In a iron skillet or frying pan melt the butter on a fairly high flame.

Sauté the chopped shallot until it's soft

Add the peppercorns and brandy and let it reduce for a minute or two. Make sure to keep stirring the ingredients

Add the stock and let it reduce for a minute, while stirring it.

Finally add the cream and mix it well. Do not let it boil, but ensure that it is heated thoroughly.
Recipe Notes
The quantities provided will serve 1 or 2 people, so you can simply multiply the quantities for a larger group. 
As a small update ..
I've since made this sauce again. In terms of quantities, if you want to double the amount of sauce you probably don't really need to double the quantity of peppercorns that you're using. If you increase the amount of stock and the amount of cream you can make the sauce go further without losing too much of the bite.