While I enjoy cooking I'll be one of the first to admit that I avoid complicated recipes. If it involves magical incantations it's not going on the menu. If it involves ingredients I can't get locally or online then it's off the menu.
Recently, however, I've been trying to get myself out of my "comfort zone" a little by trying something different most evenings. Over the past couple of weeks those experiments have been partially successful and partially not so successful. I haven't had any complete failures, as that would have meant ending up without anything edible!
One of the local supermarkets has been offering very cheap chicken thighs, so I ended up having chicken several nights in a row. However after a few days I had to vary it a little, so I switched to beef then lamb. I also generally swap specific types of stock or broth for a vegetable stock which I always have some of in my kitchen cupboard. Similarly I'll often use frozen spinach instead of fresh as it's nearly always on hand in the freezer. If a recipe only calls for one or two cloves of garlic I'll probably double the quantities.
So what did I try cooking?
I tried a number of different recipes over the course of the last week or so: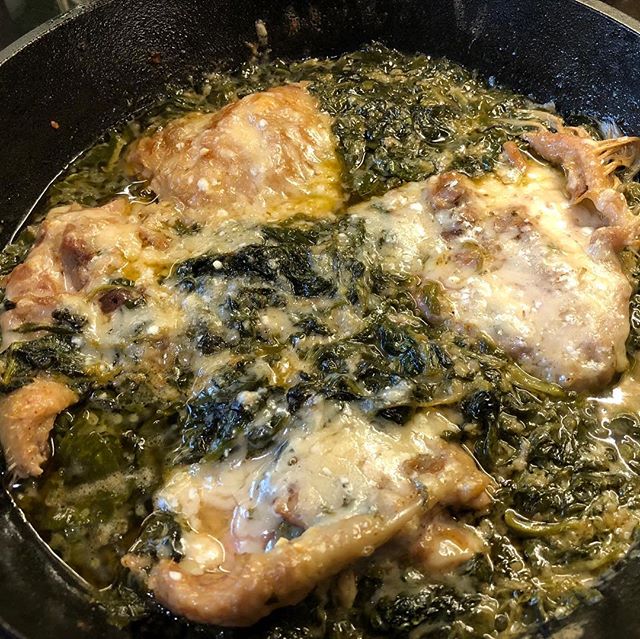 One of the things I've found very handy is cooking in cast iron cookware that you can take straight from the ring to the oven without having to mess around. Of course cleaning it afterwards can be a pain, but so be it.
Other recipes I tried:
The key thing for me was finding "interesting" recipes that made dinner that little bit more adventurous, but without getting stuck dealing with overly complicated instructions or impossible to find ingredients.
Here are a few photos of the various dishes I've made over the last while:
Cooking is fun 🙂