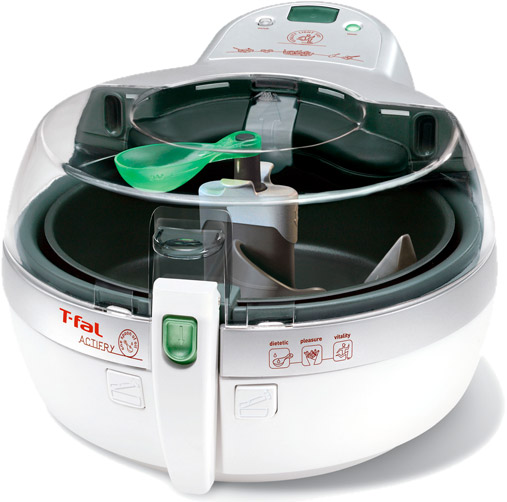 I bought an Actifry several years ago. It's a nice device and solves a problem for me: chips without using a deep fat fryer. I've never liked deep fat friers. Unless you change the oil regularly they are really disgusting. Don't get me wrong, I do enjoy fries, but I try to avoid cooking with vegetable oil entirely. I generally do most of my cooking with olive oil and even then I don't like the idea of using large quantities of oil for anything.
Every now and again I get an overwhelming desire to eat chips. Maybe with a steak, maybe with a burger or maybe with something else. Sure, they're not the healthiest food out there by a long shot, but there's no point in being miserable all the time either. I'd also rationalise that cooking my own unhealthy food is better than taking a shortcut and going to a local chipper.
I buy my meat mostly from a small local butcher, which means that they often cut the steak directly in front of me. 99% of the meat I eat at home is grilled on my George Foreman. (Getting one with removable plates has made cleaning up so much easier!)
So this week I've succumbed to my desire for chips a couple of times. I don't use frozen chips – I prefer to make my own. So I'll buy potatoes, peel them and slice them before cooking them in the actifry.
Why am I even writing about this? Well I guess it's partially my way of dealing with my own "guilt". I'm currently not travelling, so I'm able to cook my own meals and control what I eat and drink. While I know I'll buy some fresh kale later today, as well as plenty of fresh fruit and vegetables, I also feel that I need to be realistic. I don't eat 100% healthy food 100% of the time, but when I'm cooking it myself I do my best to use good quality ingredients.
Over the next few weeks I'm going to be making lots of fresh soups, stews and salads. But I will still have a nice steak from time to time.