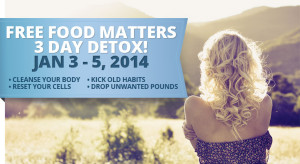 After Christmas a lot of people try to change their lifestyles and adopt a healthier approach.
Of course companies operating in the dieting / health sector know this so in the run up to January 1st there's a LOT of promotions and incentives to get people "hooked".
Food Matters are running a 3 day detox in the New Year which might be of interest to some people.
You can grab the recipes and shopping list directly from their site and Facebook page.
More details here