On weekdays I stick to simple and easy breakfasts ie. the most complicated equipment needed being a kettle and the toaster.
At the weekend, however, I'm not in a hurry and I don't have to get up until I feel like it. So making scrambled egg for breakfast is a good option. I've always associated scrambled eggs with butter. When you're on a diet, however, butter isn't exactly something that you're going to be shoving on anything – never mind using enough of it to cook!
The solution, apparently, is to use a low calorie spray instead. One of the more popular options in Ireland seems to be Fry Light Sunflower Oil Spray which is pretty versatile. I was curious about how the product stacked up in terms of calories, cholesterol etc., so here's the breakdown:
Less than 1 calorie per spray
no cholesterol
gluten free
no artificial preservatives
suitable for shallow frying, roasting and baking
And based on my limited experience of using it the taste is fine ie. you don't actually notice.
So here's the recipe for making scrambled eggs for one person using a light sunflower oil spray instead of butter: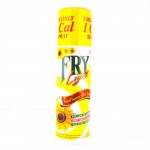 Scrambled Eggs Without Butter
This is a tasty and quite filling breakfast when you have the time to make it
Ingredients
1

egg

2

tablespoons

of low fat milk

mixed herbs to taste

black pepper

2

slices

of brown bread or toast made from brown bread

low fat spread

Fry Light Sunflower Oil Spray

or equivalent
Instructions
Beat the egg in a bowl with the milk

Add any herbs you want to add extra flavour

Heat a frying pan and cover it with a couple of squirts of the oil spray

Pour the egg mixture into the pan

When the egg mixture begins to set stir it energetically with a wooden spoon or spatula

Keep stirring until the egg is cooked enough for your taste

Serve the egg on the bread
You'll notice that it's only using one egg and a small quantity of milk, but you really don't need anything more.