The Withings scale, or as they like to call it – Wi-Fi Body Scale, looks like a really nice device, but is it that much better than a normal bathroom scales?
I currently have a very functional scale. The Weight Watchers Body Monitoring Electronic Scale, which I picked up in Argos a couple of years ago.
Here's a photo of it: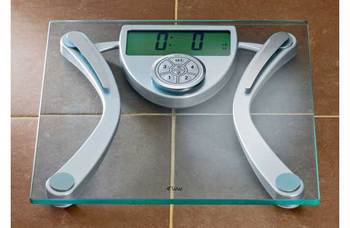 It works. It can weigh me. Do I really need anything more?
The withings scale looks very slick:

And it does have a lot of very funky looking options that appeal to someone like me:
Data collection

    Instant weigh-in by getting on the scale
    Automatically turns on and off

Weight

    Display units : kg, lb, stlb
    Graduation 0.1 kg (0.2 lbs) – 4 sensors
    Maximum 180 kg (396 lbs)

Display

    Big graphical screen (2.4″ x 1.6″)
    White, high-contrast lighting

Body analysis

    ITO Invisible electrodes
    Fat mass
    Lean mass
    Body mass index (BMI)

Personalized multi-user monitoring

    Automatic user recognition
    Comparison to reference values dictated by doctors

Online connection

    Private website secured by password
    Monitoring weight fluctuations and fat mass graph
    Comparison to reference values dictated by doctors
    Ability to set objectives
    Web browser supported: Internet Explorer, Firefox, Chrome, Safari¹

Connectivity

    Wireless 802.11b/g
    Very low power consumption
    WEP/WPA/WPA2-personal security
Data sharing

    Data can be set to private or shared with the other users of the scale
    Ability to make your graphs accessible on a webpage
    Ability to automatically publish your weight on Twitter

Content of boxed set

    Withings WiFi scale
    USB 2.0 cable
    (4) 1.5V batteries (AAA)
    4 carpet feet
    Installation guide
But, there's always a "but", the withings device costs a hell of a lot more than what I paid for my current scales. Even with a discount code (there's several floating around online) it still ends up costing around €150 including shipping.
So what can it do that makes it that much better than simply plugging the details ie. the weights into one of the web services that I'm already using?