As I mentioned before, it's not weight alone that matters, however you do need to keep track of your progress.
So what do you need?
The answer is pretty obvious:
a bathroom weighing scales
Until I went looking for one a couple of weeks ago I hadn't realised that there were so many different types to choose from!
The one I opted for was the Weight Watchers Body Monitoring Electronic Scale, which was reduced in Argos: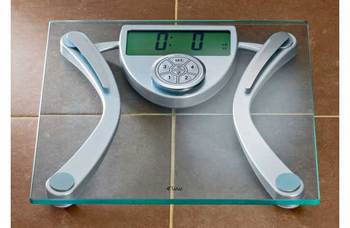 Why did I choose this particular one?
I work in IT, so I like electronics gadgets!
It has a LOT of options, which was why I chose it:
Silver frame with stylish chrome bezel and impact resistant, safety glass platform. – it looks nice
Easy read extra large 48mm clear LCD display. – ie. you don't need to wear your glasses to see how heavy you are
Measures weight, BMI (body mass index), body fat and body water. – if I can work out how to do that it will be useful … I haven't yet!
Can be used for weight only. – it's a weighing scales, so it would want to be able to do that now, wouldn't it?
Tap start, auto shut off and low battery warning. – the "tap" is more like a "whack", but we'll let them off
Records and displays start, last and goal weights. – very handy – though I still haven't worked out how to get that working!
4 person memory and 5 fitness levels, including athlete mode. – not sure if I'll find a use for that, but I'm sure others would
Precise positioning indicator ensures even weight distribution for accurate readings. – if it's not accurate it's not much use
Measures in st/lb/kg. – very useful for me, as I like being able to use either
High weight capacity 172kg/27st 2lbs/380lb – that's kind of handy, as some of the cheap scales I've seen aren't able to handle "larger" numbers
Size (W)32, (D)32, (H)3.4cm. – translation – it's not too bloody big
With BIA technology for body analysis measurements. – I've no idea what that is, but it sounds intriguing
Optional carpet feet for accurate readings on carpet. – useful? I've no idea
Includes 2 x long life lithium batteries. – I don't like changing batteries
Manufacturer's 10 year guarantee. – handy
The next "trick" is keeping a record (though the scales does that for you anyway)I've been looking into several options for this, but for the moment I think I'll just use a spreadsheet, as it's simple and relatively effective.