I wasn't sure if the Withings was going to be worth the outlay, but after talking to several people, both on the comments here and on Facebook and other media, I decided I'd get one.
Why?
Because I've been recommended to weigh myself every day and if I'm tracking weight loss (and getting nice graphs) on one of the many web based services I really don't want to have to login manually and update.
Yes. I am that lazy.
Or put another way, I'm that much of a geek. If I can automate something I will.
Setting up the Withings is pretty easy and the instructions are idiot proof.
You will need:
a Withings (doh!)
USB cable (they supply one)
a computer with a spare USB port for the initial setup but accessible as you need to run the USB cable from the scale to the computer
an internet connection
Wifi
To be honest the hardest part of the setup was removing the cover of the battery compartment on the back of the Withings. It's not that hard to open, but it slides and you do need to apply quite a bit of pressure to open it. My main fear with battery compartments is that I'll be too rough and break the clips and be left unable to close them after..
So once I got past my initial stupidity and managed to open it, install the 4 AAA batteries that it needs (they come in the box) the rest of the setup was easy
You go to the site, create your account, download the software that handles the connection, follow the instructions and you're pretty much done.
The Withings will work with multiple users on the same device, but you need to tell it about yourself during setup, so that it can work out who you are.
You can also connect it to any of the growing number of partner services via the easy to use control panel: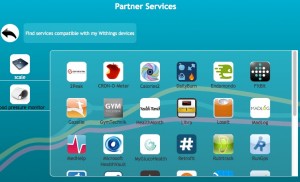 At the moment I've got mine "talking to" DailyBurn, though I'll have to find an alternative, since DailyBurn is primarily based around Imperial measurements, which I don't understand, and everything I'm doing is based on kilos.
I won't be sharing my weight via Twitter or Facebook. Sharing my struggle to get this body of mine under control via this blog (and elsewhere) is one thing, but I draw the line at actually sharing my weight etc.,
Anyway, I digress ..
After setting up the Withings I wanted to see how it worked, so I popped it in the bathroom, where it will probably end up living, and weighed myself. I'd already done a weigh in this morning, but I wanted to see what else it did.
I'm not sure if it's just me being a real geek, or if other Withings owners have the same experience, but the first weigh in was really cool.
As soon as you stand on the scale it begins to work its magic. It works out which user you are, weighs you, calculates your BMI and your body fat and shows you a nice progress bar as it works. Very cool
I assume the BMI calculation is based on the height measurement I gave it, though I've no idea how it's able to work out what it does, though it looks pretty accurate.
For the graphs and other stuff to "kick in" I'll obviously have to wait a few days and do a few more "weigh ins", but I'm impressed with it so far.
Now to find a web service for tracking all this that I actually like .. (though I could just use the one from Withings if I really needed to)
Related articles