I've been on this diet for over 2 months now. So far I've lost over 10kg, which isn't bad going, but I know I need to lose quite a bit more. Actually a LOT more.
But how much weight I need to lose and how quickly I need to lose it isn't really an issue. Why?
Changing my diet as drastically as I've done was a significant change. My relationship with food and cooking has had to evolve. That evolution is still ongoing, as I'm now experimenting with different dishes that meet the requirements for the ketogenic diet and lifestyle.
When I'm at home I weigh myself religiously every single morning shortly after waking up. I've no idea if that's the best time of the day to weigh myself or not, but I'm consistent, which I think is the most important thing.
Some days my weight will have dropped. Some days my weight will have gone the wrong way entirely.
That's completely normal.
I keep a close eye on my progress (or lack of it) with the Nokia Health Mate app, which gives a very satisfactory push notification when I hit a new low.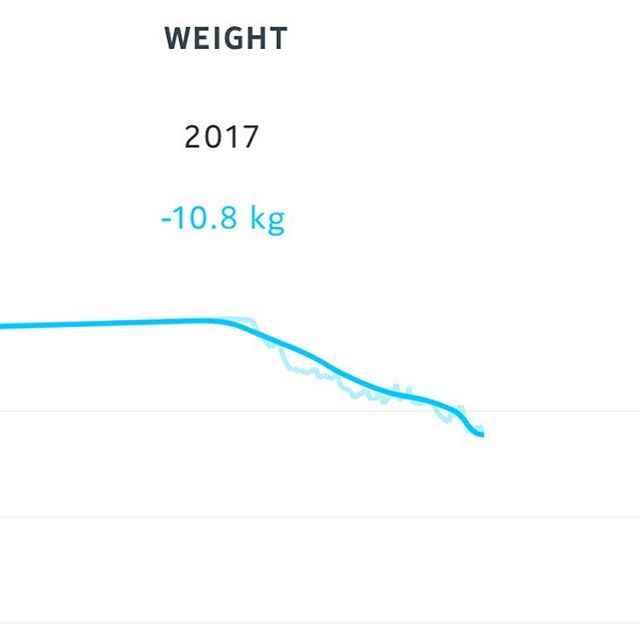 I'm doing my best to log what I eat with MyFitnessPal. It doesn't give me that same satisfying sense of accomplishment when I make big progress, but it does help me keep track of what I'm eating and how my weight is moving slowly closer to the goal I've set.
Apart from changing my diet I've also changed some aspects of my lifestyle.
I'm going to bed earlier. I'm still going to bed later than a lot of people, but these days I'm often in bed around midnight, which is a lot saner than going to bed around 2am.
I'm sleeping more. Overall my average number of hours sleep has improved. It's still not optimal, but it's been moving in the right direction. My brother-in-law installed blackout blinds for me a couple of weeks back, so I'm no longer being woken at dawn, which definitely helps.
I'm getting up earlier. I used to drag myself out of bed around 8am most weekday mornings and then struggle to get myself moving and into the office. These days I am usually up, showered and dressed by 745am. Having to cook breakfast every morning has changed my approach to mornings.
I have a fairly healthy salad for lunch 5 days a week. While repetition might seem boring having salad for lunch every weekday is far from boring. I vary the ingredients and I've been enjoying making rich salad dressings to go with my salads.
I have more energy. Sort of.
I feel more flexible. One of those things that you notice over time. Generally I feel a bit more flexible. I'm not going to become a gymnast, but I've definitely got back some of the flexibility that I'd lost over the past 10 years or so.
But as I mentioned this is all about being slow and steady.
Previously I'd tried diets that were either too finicky or just plain complicated for me to adapt to. The ketogenic (low carb) diet is relatively easy to stick to and seems to suit me. I still miss certain drinks and foods, but overall I'm not exactly miserable nor am I constantly hungry.