I recently bought a house, so for the last while I've been working on getting it ready and moving my stuff into it. As someone who enjoys cooking getting the kitchen setup the way I want is key.
The house I've been in for the last 13 years has a very spacious kitchen, but it wasn't the best equipped. The work surfaces, for example, weren't exactly generous. Also the fridge freezer had a really tiny freezer compartment, which was quite annoying. I don't rely much on frozen food, but I do use the freezer compartment for some things, such as frozen berries and the like for smoothies, as well as extra meat when I find those irresistible bargains. The current freezer compartment was so small that you couldn't even see what was in it half the time, so you'd end up with things being buried at the back. The new fridge freezer is a "half and half", so I'll have more space and I might actually be able to see what's in it!
The new house's kitchen isn't as big, but it's a lot better equipped, or at least it will be by the end of the week.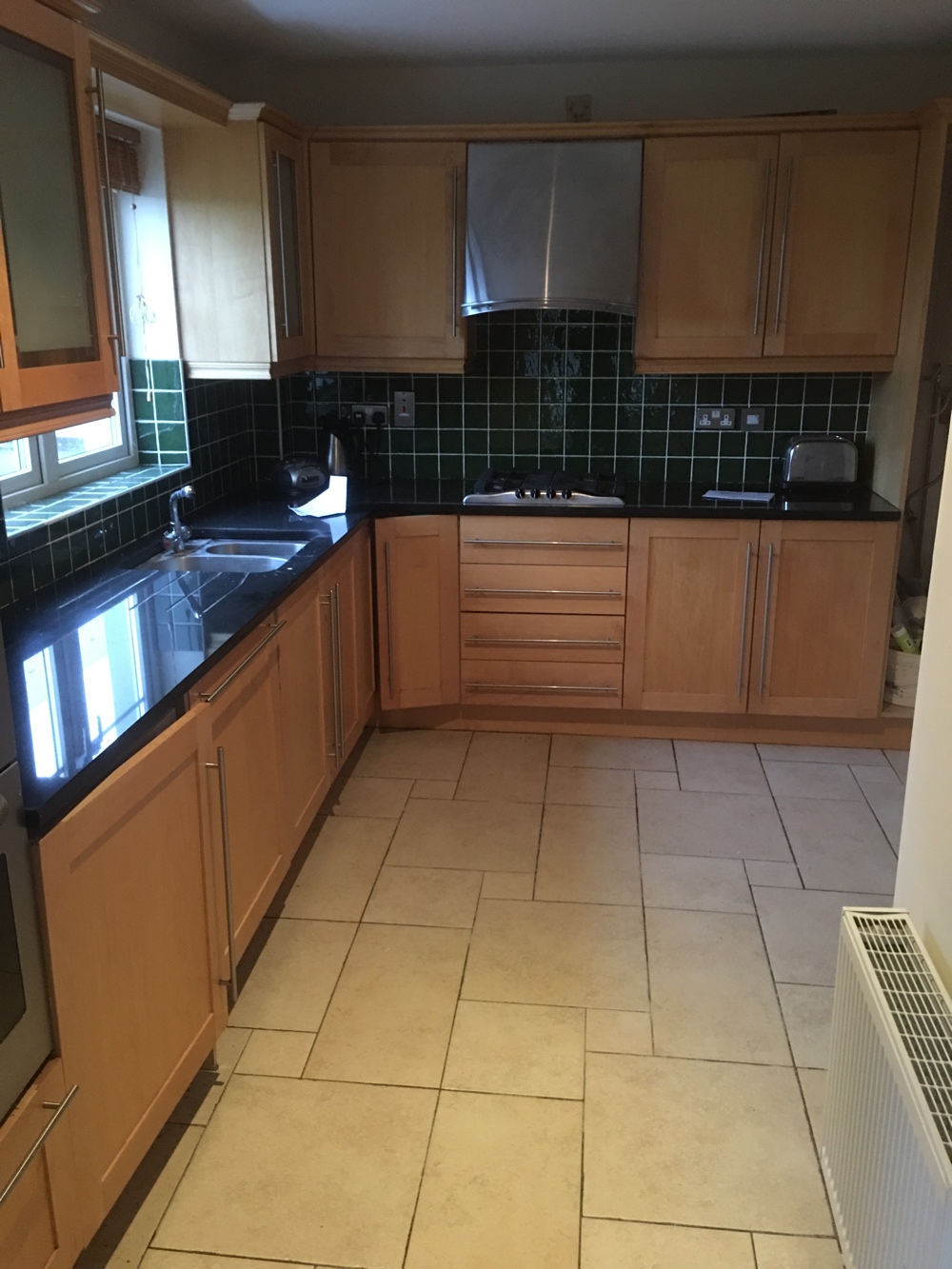 There's also a double oven, builtin microwave and a dishwasher.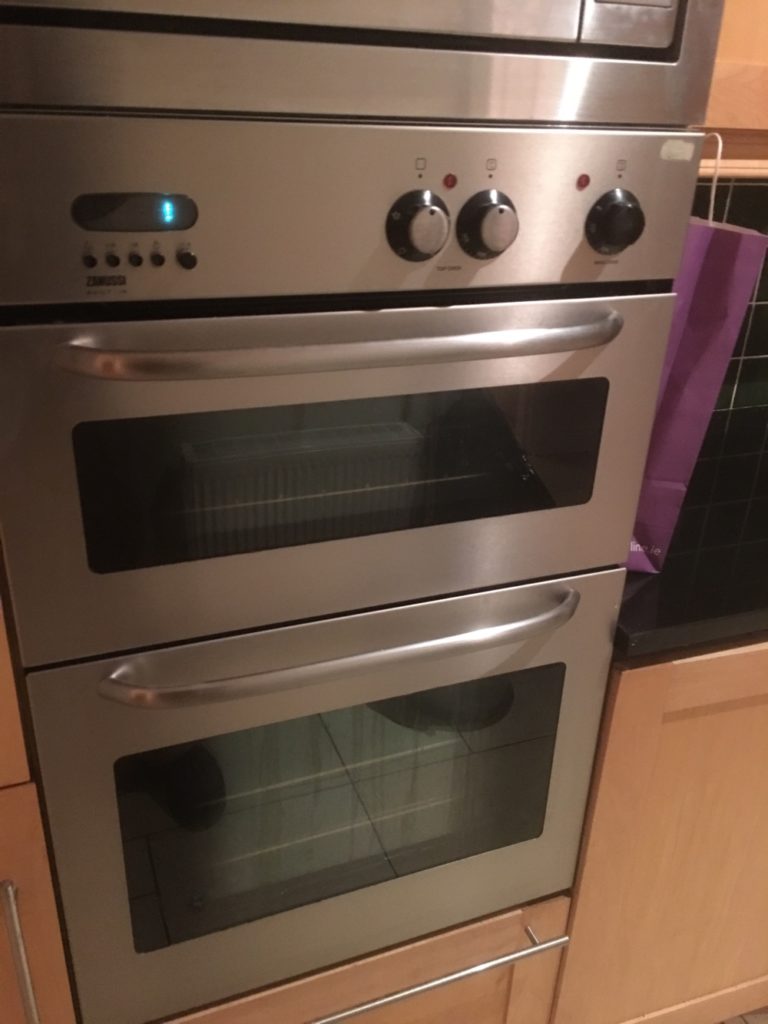 As far as I can tell everything is working correctly except for the 4 ring gas hob, which I'm replacing with a new 5 burner from Siemens: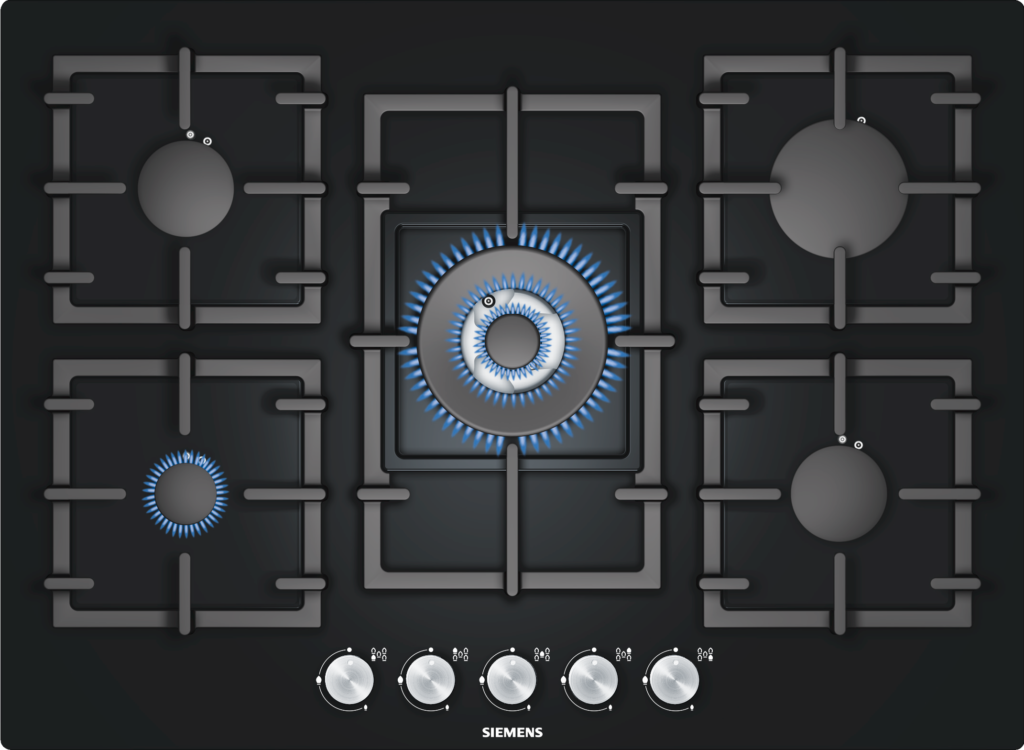 It turns out that the current hob, which isn't working properly anyway, wasn't installed correctly so it could be a safety risk! The new hob will be installed by a certified gas installer and will have a warranty.
As you can see from the photo of the kitchen above there are plenty of worktops in the new kitchen as well as a reasonable amount of cupboard space. Having a dishwasher for the first time makes me very happy – I hate washing up and it's always been one of those things that I let pile up beside the sink until I had to deal with it. Now I'll be able to load it into the machine and it'll be out of sight 🙂
When you start delving into the world of kitchen organisation you quickly find that there are hundreds of things you can get to help organise your cupboards, drawers and even your fridge. For now I'll be trying to keep it relatively simple, so I've ordered an extendible cutlery basket as well as a fridge tidy for holding bottles. As someone who likes craft beer the bottles were always rolling around on the shelves, so this little gizmo should help fix that. I know it might sound a little nutty, but the fact that the kitchen drawers in the new kitchen are so wide really makes me happy. My current kitchen has really narrow drawers that aren't that deep, so no matter what I do it's just a mess of junk in there.
The cupboards themselves are all fine, though one of the bigger ones is missing its shelf, so I'll have to get that replaced, or I'll won't be able to make good use of the storage space.
So far I've resisted making a trip to Ikea in Dublin, though I know I'll need to go soon, I'm just afraid I'll end up buying a ton of stuff that I don't really need!
Anyway, back to packing up my life!