My first attempt at making pasta wasn't a "roaring success", but as the saying goes "you live and learn".
This afternoon / evening I had a second go at it and tried my best to document it.
Starting off right with the flour (sieved) and mixing it with the egg and oil: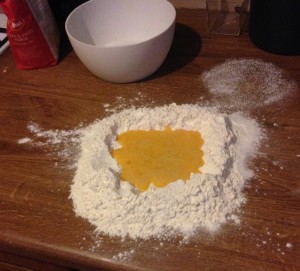 Last time round this part went terribly wrong. This time it wasn't perfect, but by spraying some water on the dough I was able to get it to something close to the right consistency.
Once I'd kneaded it quite a bit I wrapped it in some cling film and left it for about 45 minutes.
I then started work on running it through the pasta machine. However, before I could start that, I needed to roll it out a bit. Of course I don't have a rolling pin so I resorted to using an empty wine bottle (washed and all stickers removed).
Then I began running it through the pasta machine starting at the widest / thickest setting and working my way down to the thinnest one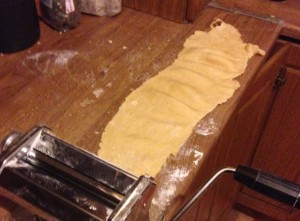 A small bit of dough really goes very far (note to self for next time – make less!)
The work space I have in the kitchen isn't exactly ideal – it's a little bit cramped. So I had to cut the dough into two parts and then as I continued running it through the machine and it got thinner I cut it again.
The end result, however, was beginning to look a lot better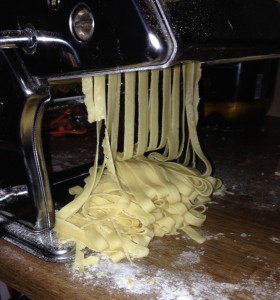 I really like tagliatelle so that's what I opted for. The pasta machine can do spaghetti as well, but I prefer tagliatelle.
The end result should then be let dry a bit before you cook it (or so I'm told). I really don't have anything or anywhere suitable for drying pasta (adding that to my todo list) so I ended up using a wooden spoon to collect the pasta: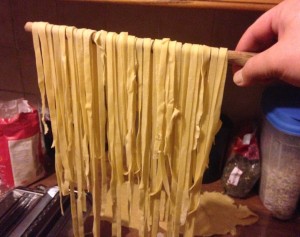 But I couldn't just hold it there. In the end I sort of hung it into a large saucepan, but it wasn't exactly ideal ..
Of course we're talking about pasta here so until you've actually tasted it you've no way of really knowing how it is.
I made a simple carbonara sauce for the pasta (boiled for about 4 minutes or so) and served it.
End result? Very tasty!
So the second attempt worked out a lot better than the first, but it's still far from perfect.
I'll have to keep working on it and seeing what I need to do to improve my technique. For example, at the moment the pasta as it goes through the machine isn't coming out straight – it sort of bends around as it goes through, which is far from ideal. I need to learn how to get it to come out in a more uniform fashion.
So more practice is needed