I love trying out new things and so when I saw Fusion and Street's soups for sale at the weekend I picked up a couple.
Today I had their chicken soup and it was fantastic. Of course it's not a "normal" chicken soup, it's marketed as "A taste of Mumbai – chicken soup – garam masala spices and basmati rice"
It's Irish made by a company in Kilkenny, which is just down the road from where I'm based.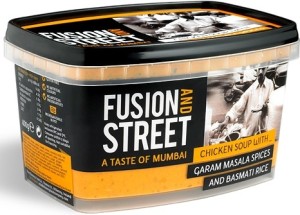 Cost-wise it's about the same as most of the other soups in that category, so pricewise it isn't an issue
In terms of calories it's pretty "light" a 400g pack, which is one bowl, weighs in at about 364 calories
At the moment they have four different flavours:
A taste of Marrakech – vegetable soup with lentils
A taste of Bangkok –  chicken soup with Thai spices , jasmine rice and fresh lime
A taste of Mexico City – tomato soup with fresh coriander, red beans and corn
A taste of Mumbai – the chicken soup I mentioned
It's available in most Tesco supermarkets in Ireland at the moment