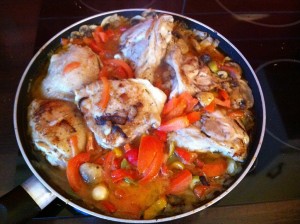 Chicken is not only tasty, it's also one of those things that you often find on special offer in a lot of supermarkets.
When I was a student in Limerick I used to pick buy it regularly and cook it in a number of different sauces.
This recipe is inspired by one of those supplied by Tesco Diets (now defunct). They call it a Provençal chicken, though I'm not sure if that's really accurate.
The quantities in this recipe are for two, as I was cooking for someone else (obviously!)
If anyone knows of a supermarket or butcher that sells chicken thighs already skinned I'd love to know about them! I've tried skinning chicken thighs in the past and it's a lot of pain for very little gain. So I've been cooking chicken thighs with the skin on ..
In terms of calories etc., this isn't the healthiest option I'm afraid, though it's not horrendous (probably around 700 – 800 calories?)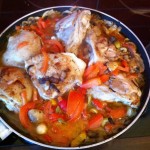 Chicken With Tomato And Olives
A tasty chicken dish with tomatoes and olives. Best served with new potatoes
Ingredients
3

cloves

of garlic

not skinned

1

tbsp

Herbes de provence

6

chicken thighs

1

pepper OR 1 mug of frozen pepper slices

4

tomatoes OR 1 tin of tomatoes

chopped or whole

200

g

mushrooms

sliced and diced

5-6

olives chopped

Olive oil

1

Onion
Instructions
Heat some olive oil in a pan

Add the chopped onion and cook until soft

Add the chicken and cook until browned

Add the tomatoes, mushrooms, garlic, herbs and olives. Do not skin or chop the garlic - it needs to be cooked whole "as is"

Cook on a medium heat for 20 - 30 minutes

Serve with new potatoes