Over the weekend I dropped into my favourite local butcher and picked up some bits and pieces, including the pork that I used for making the pork schnitzels. While I was there I got some chicken breast, but I didn't have any firm plans for it. This evening I didn't feel like doing anything terribly elaborate, so I thought I'd try my hand at doing low carb chicken tenders. If you can do schnitzels using almond flour, why not other "breaded" meats and poultry?
Chicken tenders are basically just strips of chicken in a bread. Once they're breaded you can either fry them, deep fry them or, as I did, do them in the oven.
If you want super mild, yet tasty, you could simply use some herbs and a bit of salt and pepper, but if you want to give them a bit more "kick" there's no end to the combinations of herbs and herb mixes you can use.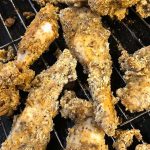 Low Carb Chicken Tenders
A simple low carb take on comfort food
Ingredients
50

g

Almond flour

You might need more

1

medium

egg

2

tbsp

Cajun spice mix or mixed herbs with cayenne pepper

2

breasts

chicken

1

tsp

salt

1

tsp

ground black pepper
Instructions
Heat the oven to 180 degrees C

Slice the chicken breast into strips. Relatively thin strips are better.

Mix the herbs and other seasoning together with the almond flour in another bowl or plate.

Dip each chicken piece in the egg and make sure it's well covered, then transfer it to the dip with the herbs and flour. Coat each piece of chicken well. Transfer the dipped chicken pieces to a baking tray which you've either lined or greased.

When the oven is ready transfer the prepared chicken to it. Cook the chicken for 20 - 25 minutes. The chicken pieces should be turned at least once.

Serve with your favourite dip or with a bit of salad.
And no, you can't really taste the almond! If you're completely new to low carb cooking then you might notice a slight difference in the taste compared to more "traditional" flour mixes, but I don't think it's noticeable.