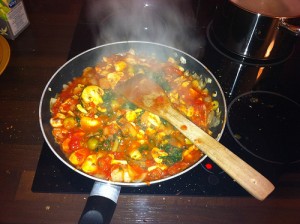 Since I started on this diet I've been cooking almost every single day. On a "bad" day I even prepare my own muesli!
It's become an obsession with me .. so much so that I've found myself getting frustrated with my kitchen equipment. End result being that I've replaced the chopping boards, invested in some new pans and have finally got a proper set of pyrex oven dishes. (I did have a couple of oven dishes, but they were huge and totally impractical for cooking for one). I've also found myself spending a lot of time looking at kitchen gadgets. While a lot of them are completely pointless (who needs a special device to slice bananas??), others are really handy. Like the one I picked up recently that will crush garlic without you having to peel them.
As I spend more time working on the diet I've also got more adventurous with the recipes. It's not hard to make a reasonably good dish into something with a little bit more "oomf". Adding some fresh parsley or olives can give it a bit more taste and unless you go "mad" you won't make much difference to the overall calorie count for a given dish.
I think my mother quite enjoys this "new me", as I end up doing most of the cooking when I head down to see her every few weeks. She may not be on a diet, but there's no reason why she can't eat the same food as me, as it's not bland or boring.
So the next phase of my cooking will be to start doing more stuff using the oven – now that I have "normal" sized pyrex oven dishes to use.
I'm really looking forward to it!
Related articles