I've been using MyFitnessPal for years. However "using" is probably not the correct word. Most of the time I haven't actively been using the app, but have simply had an account that I logged into. I wasn't actively tracking what I was eating or keeping an eye on carbs, fibre etc., Sure, I'd log some of the food, but most of the time I logged only a fraction of what I was consuming. When I was trying to follow the Tesco Diet a few years ago I probably logged most of what I was eating, but generally speaking I'd log breakfast and a couple of other things each day, but that was about it.
What I have been doing, however, is using MyFitnessPal as a "hub" for other devices and apps. So, for example, my weighing scales (a Withings body cardio) ties back into my MyFitnessPal account, as does my FitBit. What that means is that changes in my weight get logged to MyFitnessPal automatically, as does my daily activity (or lack of it!).
I started doing the ketogenic diet a couple of weeks ago (17th July). Since then I've had to keep a very close eye on everything I eat or drink. With a ketogenic diet you need to keep a very close eye on your daily intake of carbs more than you do  calories. (There's a pretty good explanation here)
Of course you have to keep track of your calorie intake, but it's not a calorie restricted diet, so while you need to keep your calorie intake under control the key metric you're looking at is your carbs.
To help you tweak your daily calories, carbs and other metrics you can use a calculator like this one. Plugging in my data (weight, gender etc.,) I end up with something like this: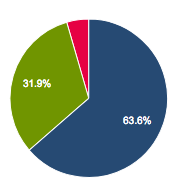 The red section of the pie is my allowed daily intake of carbs, which is under 5%, or about 25g. In reality I'm focussing on keeping below 50g per day, as getting much lower than that is proving quite awkward 🙂
It also gives you your daily calorie ration, as well as protein and fat which you can then plugin to your MyFitnessPal account settings in the "goals" section. You can do most things in the mobile app easily, though sometimes it can be a little easier to use the website.
Logging every single meal can be a bit of a chore, but like many things if you get into the habit of doing it it becomes that bit easier.
Tip: Don't wait until the end of the day to log your meals – logging them as you go is a LOT easier
The food database MyFitnessPal uses is pretty good. However if you can't find exactly what you are eating you'll often find a generic alternative. Logging food when you're eating out is usually the hardest, as it's often awkward to match what's on the menu or your plate against something that the app will recognise easily.
For me the most interesting and motivational bit of the app is the "progress" section. The app for my scales does give me the same information, but it doesn't look as compelling as this: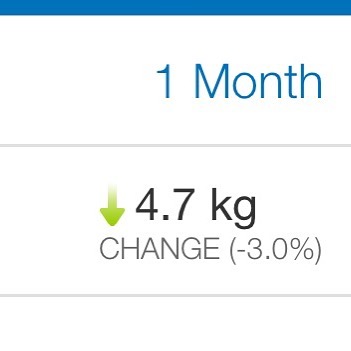 Over the last few weeks I've managed to lose 4.7kg, which is great. In another post I'll talk about what my actual goals are and why, but for now suffice to say I'm quite happy with my progress.
As I said recently, I'm committed to following this diet for a month. If I feel it's working I'll keep it up and if I don't then I'll have to move on to something else.
I've also recently upgraded to using the MyFitnessPal premium account, so I get handy little features like this nutrient summary on the home screen: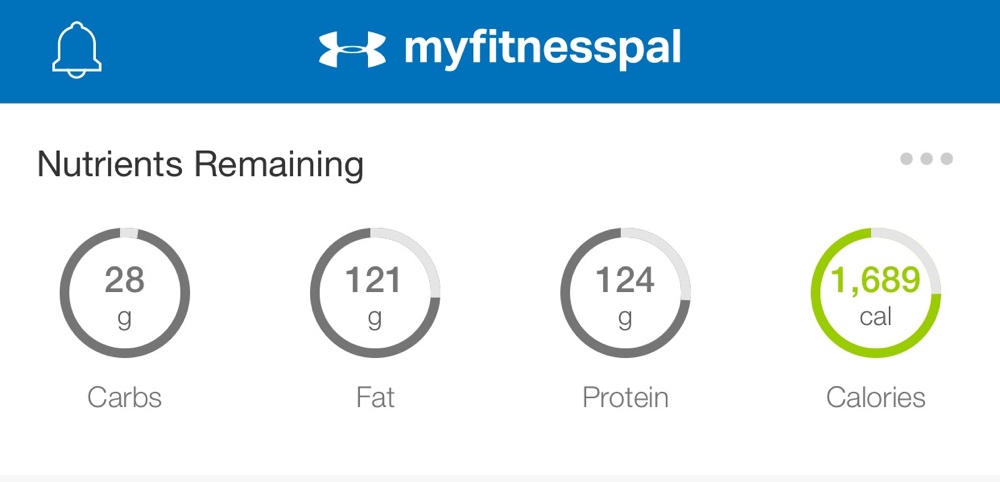 An annual subscription is cheaper than a trip to the doctor, so I think it's a good investment 🙂
Of course MyFitnessPal isn't the only "tracker" out there, there are hundreds of them. Choose whichever one you think works best for you.